My kids would call Google a butt in their best Miranda Sings impression. Why? So many of us who own a small business fight with Google. It's so confusing!!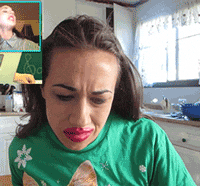 I often find myself untangling a web of Google pages for my clients. Most of the hair pulling and teeth  gnashing is over Google+ and Google for Business. Did you know they are different products? Google+ was created basically as an answer to facebook, in short: With Google+, you can share links, videos, pictures, and other content with people who share your interests, you are "connected" to other people. If you have had your business up and running on Google since before July of 2014 you probably have a Google+ account. 
Enter Google My Business. This is where you want to spend a bit of time. Google My Business connects you directly with customers when they're looking for you on Search, Maps or Google+. Go to https://www.google.com/business/ to get started. This is the information people will see when they search your business - photos, reviews, etc. 
And this pretty lady is Miranda, and for those who don't hang out with 9-12 year old girls, she's a pretty big deal. 
Please reload